15 Ekim 2022
Memorandum of Understanding between Türkiye and Qatar on Halal Quality Infrastructure was Signed
The memorandum of understanding between the Republic of Türkiye and the State of Qatar for enhancing the cooperation in the field of halal quality infrastructure was signed on October 14, 2022, at a ceremony hosted by President H.E. Recep Tayyip ERDOĞAN, within the scope of the visit of the Emir of Qatar, H.E. Tamim bin Hamad Al THANI.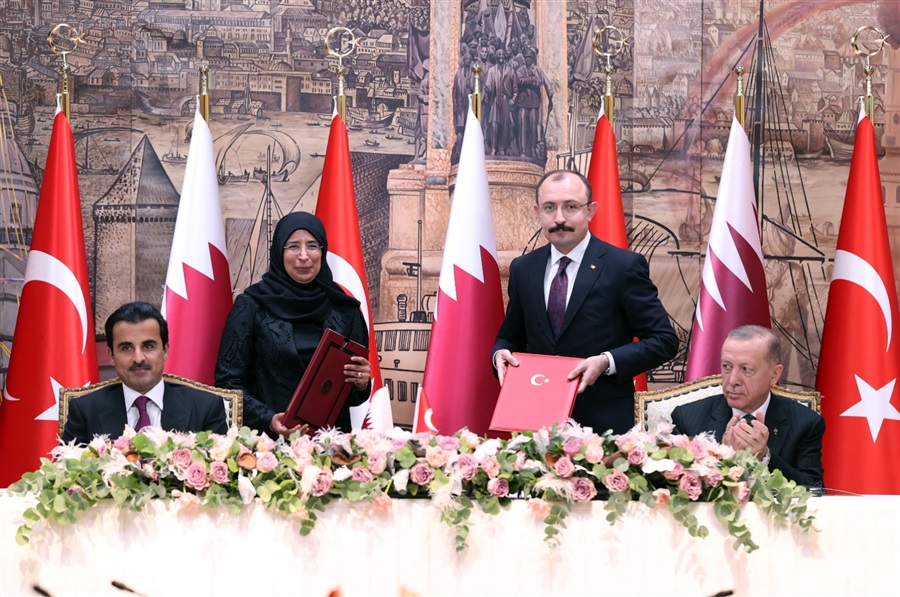 With the memorandum of understanding signed by Minister of Trade H.E. Dr. Mehmet MUŞ on behalf of Türkiye and Minister of Public Health H.E. Dr. Hanan Mohamed Al KUWARI on behalf of Qatar; it is aimed to develop cooperation between Halal Accreditation Agency (HAK) and Ministry of Public Health of Qatar - Food Safety and Environmental Health Department through the joint activities to be carried out, particularly in the fields of training and information exchange, and to organize joint studies on the recognition by the State of Qatar of halal certificates issued by HAK accredited halal certification bodies.
The HAK has signed MoUs with relevant institutions of Pakistan, Azerbaijan, Uzbekistan, Kyrgyz Republic, Algeria, Sudan and Kazakhstan so far, in order to eliminate the technical barriers in trade, to strengthen the potential of trade in halal certified products and services, and to establish a reliable halal certification system operating at the global level.
In this context, this memorandum of understanding signed with Qatar, a member of The Standards and Metrology Institute for Islamic Countries (SMIIC), will contribute to both the development of bilateral relations between the two countries and international cooperation in halal field.