21 Kasım 2022
Memorandum of Understanding in the Field of Halal Quality Infrastructure was Signed Between Türkiye and Indonesia
The Memorandum of Understanding (MoU) for enhancing the cooperation in halal quality infrastructure between the Halal Accreditation Agency (HAK) and the Ministry of Religious Affairs of the Republic of Indonesia Halal Product Assurance Organizing Agency (BPJPH) was signed on November 17, 2022, at the Halal 20 (H20) Summit in Semarang, Indonesia.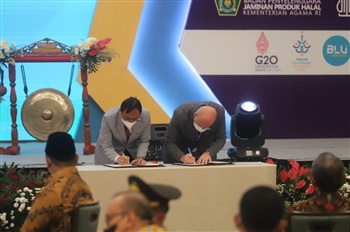 With the MoU signed by HAK Chairman Mr. Zafer Soylu and BPJPH President Mr. M. Aqil Irham, it is aimed to develop cooperation between the two institutions through joint activities, especially in the fields of training and information exchange, and collaborate on carrying out joint studies on the recognition in Indonesia of halal certificates issued by halal certification bodies accredited by HAK.
 
The HAK has signed MoUs with relevant institutions of Pakistan, Azerbaijan, Uzbekistan, Kyrgyz Republic, Algeria, Sudan, Kazakhstan, and Qatar so far, in order to eliminate the technical barriers in trade, to strengthen the potential of trade in halal certified products and services, and to establish a reliable halal certification system operating at the global level.
 
In this context, this memorandum of understanding signed with the Republic of Indonesia, a member of the Standards and Metrology Institute for Islamic Countries (SMIIC), will contribute to both the development of bilateral relations between the two countries and international cooperation in halal field.