25 Kasım 2022
Memorandum of Understanding in the Field of Halal Quality Infrastructure was Signed Between Türkiye and Russian Federation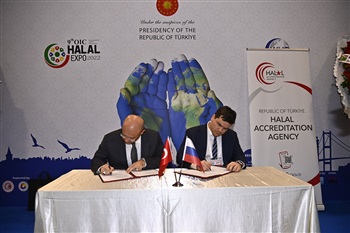 The Memorandum of Understanding (MoU) for enhancing the cooperation in halal quality infrastructure between the Halal Accreditation Agency (HAK) and the Federal Accreditation

Service of Russian Federation (RusAccreditation) was signed on November 24, 2022 within the margin of 8th World Halal Summit and  9th OIC Halal Expo events in İstanbul.
With the MoU, it is aimed to reinforce cooperation between Türkiye and Russian Federation-who is an observer of Standards and Metrology Institute for Islamic Countries (SMIIC), in the field of halal quality infrastructure including accreditation and conformity assessment of halal products and to facilitate exchange of information, experience and best practices between the parties.

MoUs had been signed previously between our Agency and relevant institutions in Kazakhstan (National Center for Accreditation-NCA, Kazakhstan Institute of Standardization and Metrology-KazStandard), Pakistan, Azerbaijan (The State Service for Antimonopoly and Consumer Market Control under the Ministry of Economy of the Republic of Azerbaijan, Azerbaijan Food Safety Institute) Uzbekistan, Algeria, Sudan, Kyrgyz Republic, Qatar and Indonesia in order to establish a reliable halal certification system, remove technical barriers to trade and strengthen the trade potential of halal certified goods and services.