10 Haziran 2022
Technical Training On Halal Standards Was Organized in Uzbekistan with the Cooperation of HAK and TİKA
Technical training for the representatives of quality infrastructure organizations of the Uzbekistan within the scope of the memorandum of understanding signed between the Halal Accreditation Agency (HAK) and Uzbek Accreditation Center was organized in Tashkent on June 6-10, 2022 with the cooperation of the HAK and Turkish Cooperation and Coordination Agency (TİKA).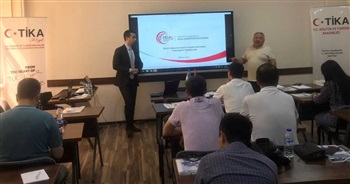 The training was realized by wide participation from Uzbek Accreditation Center and Uzbekistan Standards Agency, the subsidiary organizations of Uzbek Agency for Technical Regulation. In the training, international trade of halal certified products and services, history and current status of halal certification, OIC/SMIIC standards mainly OIC/SMIIC 1:2019 General Requirements for Halal Food, OIC/SMIIC 2:2019 Requirements for Bodies Providing Halal Certification, OIC/SMIIC 3:2019 Requirements for Halal Accreditation Bodies, OIC/SMIIC 35:2020 Requirements for Laboratories Performing Halal Testing, and accreditation procedures and rules of the HAK were discussed.  
Studies for cooperation on establishment of a global halal quality infrastructure based on internationally accepted OIC/SMIIC standards will be continued by carrying out activities to share technical knowledge and experience.